San Diego
As we descend into San Diego airport (SAN) from the east, we know that there is some mountainous terrain below us. This means that the air traffic controllers must keep us a bit higher than normal because they must keep a good safety margin, usually 1000 to 2000 feet above the mountainous terrain. This also means that we must slow down because we can very quickly get into a situation that we will be high on the final portion of the approach which can lead into an unsafe and unstabilized approach.
The single runway in use at SAN is Runway 9-27 (runway markings and designations explained in a later section to come) and is 9401 feet long, making it the busiest single runway in the United States. Over all the years I have flown into SAN, I have only used Runway 9 one time. Runway 27 (270 degrees, meaning straight west) is used when visual conditions exist and allows the optimum rate of operations. Runway 9 is used for weather that is below visual and marginal conditions (less then 1000 feet cloud cover and 3 miles visibility). The tricky thing about landing on Runway 27 are two interrelated concerns. Because of a parking garage at the approach end of Runway 27, and maybe to do somewhat with the hilly terrain, SAN has one of the steepest glideslopes for arrival of any major airport in the United States. The glideslope is at 3.5 degrees versus the usual 3.0 degrees for most runways. This is why there is no precision (Instrument Landing System (ILS)) approach, and only a nonprecision ( Localizer (LOC)) approach for runway 27 (more on approaches in a later section).
As we are landing on Runway 27, downtown, San Diego Bay, Coronado, and the Pacific Ocean will be on the left hand side of your aircraft, mountains will be on your right. Upon landing, you might notice a bunch of buildings on your right. This is the Marine Corps Recruiting Depot (MCRD), a military base which shares the airport area. The more modern terminal is at the north end of the airport, all baggage claim is downstairs from your arrival gate.
*The most common runway in use is runway 27. If you want to see the ocean and downtown San Diego, sit on the left-hand side of your aircraft for landing. For departure, also sit on the left-hand side because the ocean will be on the left, and also many times, the departure requires a climbing left turn which you can see San Diego Bay and downtown, along with Coronado.*
Welcome to San Diego! It is a beautiful city with many things to do and see.
Along with our personal experiences our family members recommend the following places, restaurants and things to do.
Balboa Park has 15 major museums, art venues, gardens, and the San Diego Zoo, it is located close to downtown, route 163 runs through the Park. Plan on doing a lot of walking if you want to take in the Park in one day. Two days in the Park is the way to really experience the Park. If you want to eat outside the Park try Urban Solace in North Park. They have great Grandhattans (Gran Marnier Manhattans). Then there is Wine Steals in Hillcrest. They have wines by the glass . Lots of variety. Reasonable prices. Balboa Park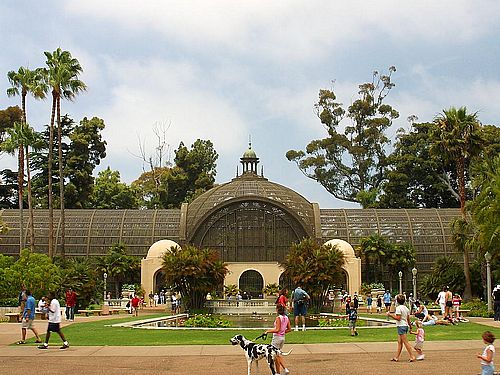 The Gas Lamp District has a lot of restaurants and bars for the young adults.
Old Town San Diego also has a lot of good restaurants, bars, and small shops. One favorite place to eat is the Old Town Mexican Cafe. No matter where we go, eating is the standard activity with family and friends. Old Town San Diego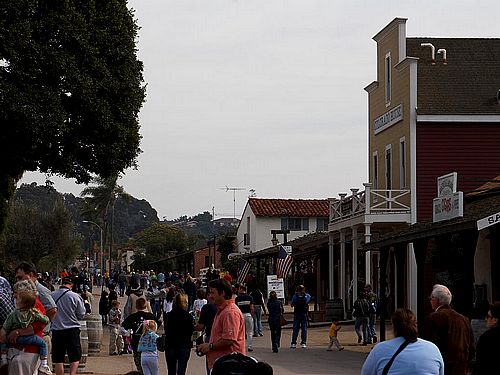 Seaport Village is on the Bay and has good restaurants and fun shops and an old carousel. Again, walking shoes is recommended and an empty stomach for more eating.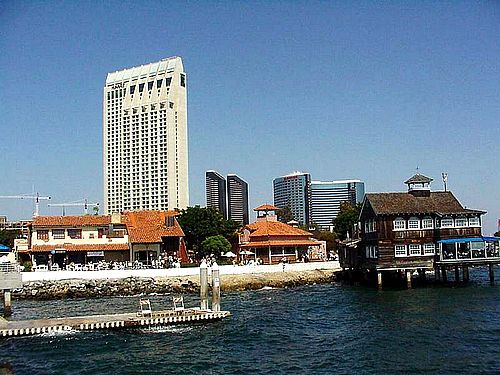 Point Loma is north of downtown and northeast of the airport. It has several parks. Point Loma Seafood is a good and informal place to eat (on picnic tables) or takeout.
Coronado Island is only 2 miles across San Diego Bay. The Hotel Coronado is very distinctive to the island. Orange Avenue is the main street of town with more restaurants and unique shops. Peohe's restaurant is right on the water with astonishing views of the city. Coronado Island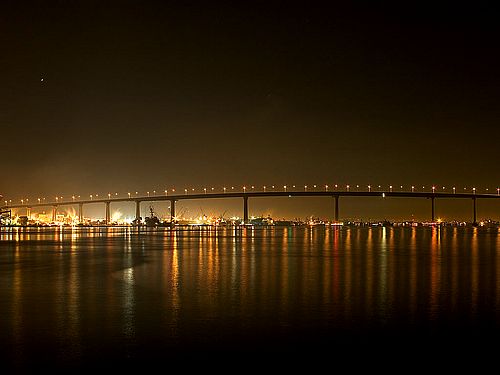 For the kids, a must visit must be made to Sea Life Park and a little further north is Legoland!
To work off those extra calories, visit the beaches. Pacific Beach is a family favorite with more eats at The Green Flash Restaurant as you watch the sunset or for the best Bloody Mary's go to Jordan's at Tower 23.
A little north of Pacific Beach is the town of La Jolla with parks and beaches. Zenbu Sushi Bar & Restaurant is a great place to eat for adults and the mature children. Don't forget that there is a lot of recreational things to do like surfing, kiteboarding, fishing, sailing, and paddle boarding!
Before getting back on that plane make time to have your last San Diego meal at C Level restaurant on Harbor Island. Enjoy the view and meal and plan your next visit to San Diego.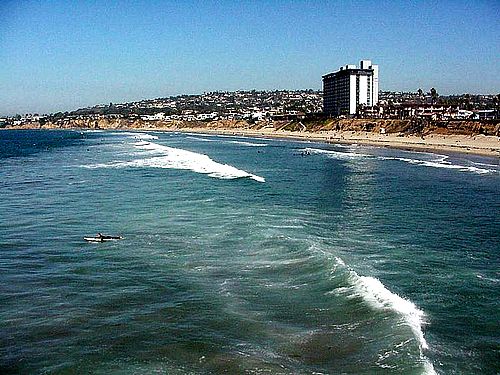 Do you have special places that you visit while in San Diego?
If you have special places that you visit while in San Diego, please share! Especially if these are not the usual tourist places!
What Other Visitors Have Said
Click below to see contributions from other visitors to this page...

Hotel Del Coronado (Coronado Island)

My husband and I love going to Coronado Island when we visit San Diego. The Hotel Del Coronado (referred to by locals as simply the Hotel Del), is just …
Solano Beach, CA

Just about 30 minutes north of San Diego is Solano Beach. I know this isn't San Diego but it is close enough to downtown S.D. to "get away" from the usual …
San Diego back to Destinations
San Diego back to My Airline Flight