Honolulu
Most airline flights that arrive into Honolulu International Airport (HNL) are from the mainland of the United States, or at least from that direction, which is from the east. As your flight descends into Honolulu, you see the islands of Molokai, Lanai, and Maui on the left-hand side of your aircraft, in that order. Maui's highest point is Haleakala. If it is a clear day, you can see the big island of Hawaii in the distance with the volcanao of Mauna Kea being quite distinctive. Many times you will be able to see Koko Head and Diamond Head off the right-hand side of your aircraft. Waikiki will appear shortly. The main runways that are used for arrrival and departure at HNL are runways 8L/26R and 8R/26L, at least for widebody aircraft. These runways run basically east-west (more on runway designations in a later section).
Most of the time that I have landed at Honolulu has been on runway 8L (eight left), it is 12300 feet long. Usually runway 8R (eight right), called the Reef Runway, is used for departure with a right turn out so as not to fly over Waikiki. This runway is 12000 feet long. HNL shares runways and taxiways with Hickam Air Force Base.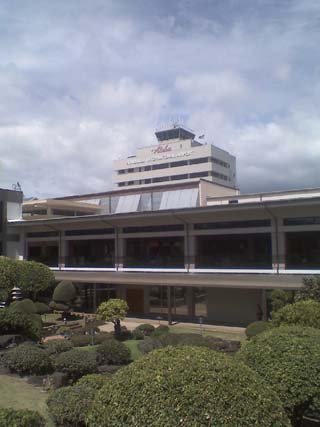 On approach to 8L, on the left-hand side the mountains will appear. Sometimes you can see Kolekole Pass. This is the pass where the Japanese planes flew through to attack Pearl Harbor on December 7, 1942. The beaches of the old Naval Air Station Barbers' Point and Ewa Beach will be on the right. At about 300 to 400 feet above the ground, you will pass over the entrance to Pearl Harbor where it might get a little bumpy because of the air currents created by the Harbor entrance. Landing on 8L, the main terminal will be on your left.
On occasion when the winds blow from the west, runways 26L and 26R will be used. Most aircraft will land on 26L (the Reef Runway), especially widebody aircraft, because the air traffic controllers will try to keep air traffic and noise from overflying downtown Honolulu and Waikiki. This approach is more of a visual approach and requires a heading that is about 40 degrees off the heading of runway 26L. This is required to once again keep air traffic offshore to minimize noise and parallels Waikiki. At a couple of hundred feet a left banking turn is required to land. This approach can get a bit tricky at times, especially when you are banking a big widebody aircraft at a few hundred feet and in gusty winds!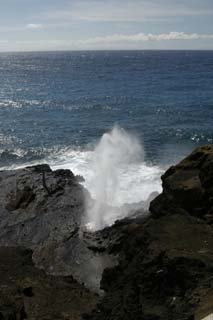 Aloha, welcome to Honolulu!
If you have the time, when you deplane and before picking up your bags, be sure to wander the gardens in the Honolulu airport – relax for a few moments before your vacation begins.
Waikiki is the most popular spot for most tourists. Relax on the beaches, shop, eat and take the time to learn how to surf! The ABC stores will carry your cheap beach mats, snorkel and masks and sunscreen. Take a bus to the Ala Moan Shopping Mall and Ward Warehouse for great "grinds" (yes, more eats!) and souvenirs. If you have a car drive to the Aloha Stadium on Wednesdays and Saturdays for the largest flea market on the island with great bargains.
Try the hot Malasadas (doughnuts) or buy lunch from the beach lunch wagons. These are the tastes of Aloha. Taste the different foods of Hawaii. Even McDonald's tastes different in Hawaii!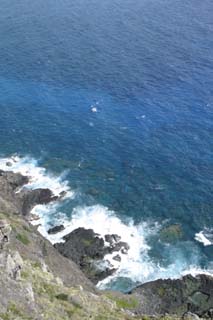 I am sure that before you leave for the Hawaiian Islands you've read the tour books so these are the suggestions from a long-time-ago local.
Here are my top 10 places to see:
1. Haunama Bay – get there early because parking is limited.
2. Diamond Head – a good hike for a spectacular view.
3. Polynesian Culture Center – well worth the price.
4. Dole Plantation – try the pineapple sherbet; it is "ono" (best).
5. Haleiwa's Matsumoto's Shaved Ice – the best snow cone in the world.
6. Kailua Beach – learn to kite board or wind surf.
7. Pali Lookout – hold on to your hats!
8. Pearl Harbor Tour – a moving and historical reflection.
9. Waimea Bay and Falls – get there early, yep, parking is limited.
10. Makapuu Beach and Lighthouse trail – great waves, great view.
Please be careful when swimming in Hawaii – waves and undertow can be tricky. Take pictures of the waves to be on the safe side if you are not a strong swimmer.
The multicultural flavor makes Hawaii the most unique place in the USA. Aloha!
---
---
Photographs courtesy of Jason Scott Lee of California Kiteboarding
---
---
Do you have special places that you visit while in Honolulu or on Oahu?
If you have special places you visit while in Honolulu or other parts of Oahu, please share! Especially if these are not the usual tourist places!
Honolulu back to Destinations
Honolulu back to My Airline Flight