Belize
We usually start our descent into Belize City International Airport (BZE) about 100 miles out. BZE has a single runway that is 9700 feet long. The runway is oriented 07/25. Most arrivals are into Runway 07 (070 degrees) where you pass over a small river on final approach. Runway 25 (250 degrees) is an overwater approach and can get a little bumpy on final approach. On the descent into BZE, water will be on your left, mountains on the right.
The tricky thing about getting into BZE is that with only one runway and no parallel taxiway (I believe they have started construction on a taxiway), Approach Control and the Tower must sequence traffic arriving so as to give a landing aircraft sufficient amount of time to turn around on the runway, and "back taxi" on the runway to the ramp area where they can turn off. With some major airline jet traffic and small turboprop planes that fly to the islands arriving at the same time, it takes some good coordination among all to ensure proper separation and time! Many times Approach Control will have you fly a large part of an approach, even with good weather, so it gives them greater flexibility in sequencing aircraft.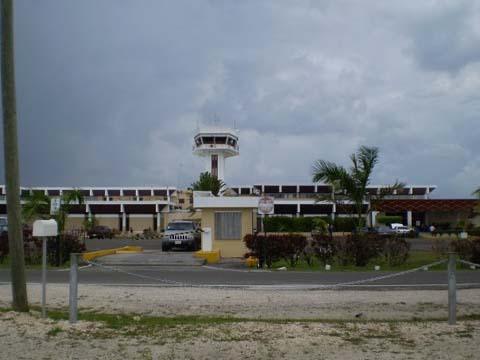 BZE has no jetways, therefore you must exit your aircraft on a hardstand stairs that are brought up to the aircraft. Once on the ramp, you will be directed into Customs and Immigration.
Belize is a nature lover's paradise located in the Western Caribbean. If you want to experience a remote, quiet vacation, this is the place for families and couples getting away from it all. We wanted to see the jungles, but also enjoy the pristine beaches and waters for snorkeling.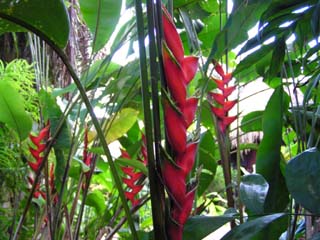 Our first stop was the Laminai Outpost Lodge a very interesting bus ride and a boat ride to the heart of a jungle. The boat ride took us down New River with the guide always pointing out the vegetation, the birds and looking out for crocodiles. We were not disappointed. This is a bird watchers paradise, so don't forget your camera!
The Lodge was everything we expected. Our cabana was just that, a cabana – no television, no radio but electricity. It was clean. We found a true paradise to relax and enjoy the jungle. Well, until the Howler Monkeys did their morning wake up call – a truly unique experience.
While there the activities included a boat ride to the Lamanai Mayan Ruins and an after dinner spotlight river safari.
Our next stop was Blackbird Caye. We took a 32-mile boat ride to the Blackbird Caye Resort from Belize City. We wound our way through coconut palm mangrove islands to the Belize Barrier Reef. The trip was about 1.5 hours but the scenery was just spectacular.

Arriving there was a site for the weary traveler – an island of our own. Our cabin was again, like a beach shack with no television, no radio. So, a place to relax, enjoy the beach and the snorkeling, scuba diving and fishing!
Oh, in back of the dining area was their resident crocodile so they warned us not to venture out that way in the evening. Every once in a while we were notified if the crocodile ventured out to the lagoon.




Evenings were spent in the bar cabana enjoying the other guests' and staff's company.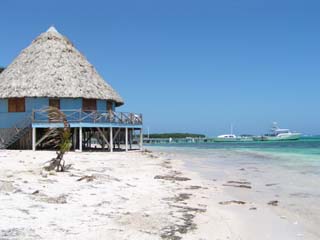 Do you have special places that you visit while in Belize?
If you have special places that you visit while in Belize, please share! Especially if these are not the usual tourist places!
Belize back to Destinations
Belize back to My Airline Flight